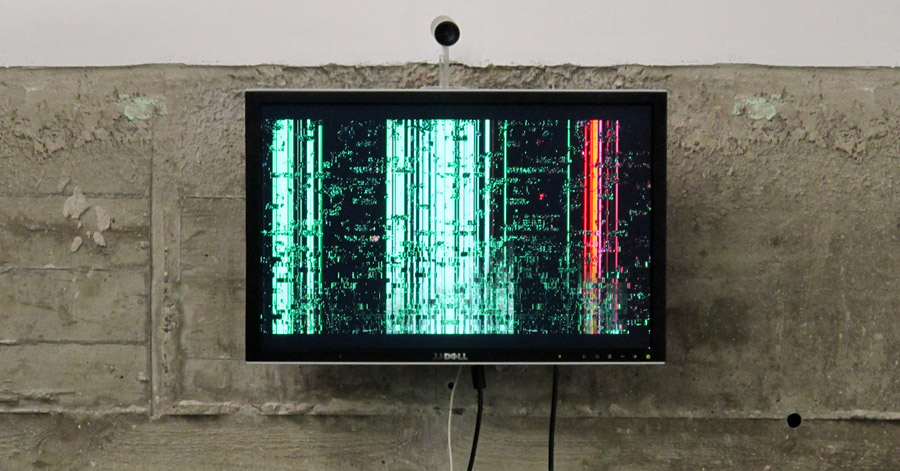 I did this Interactive Computer Art Installation for A.J.A.R ( Anonymous Journey in Art Research )
Glitch Exhibition Opening in Berlin, march 2010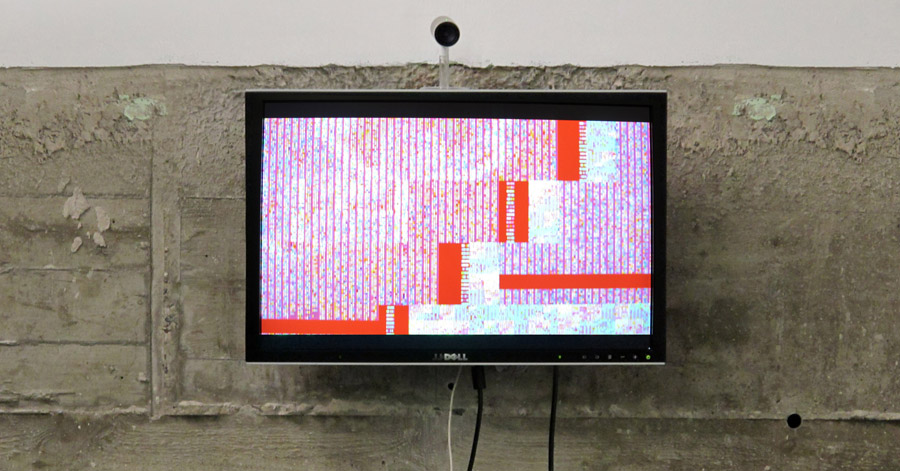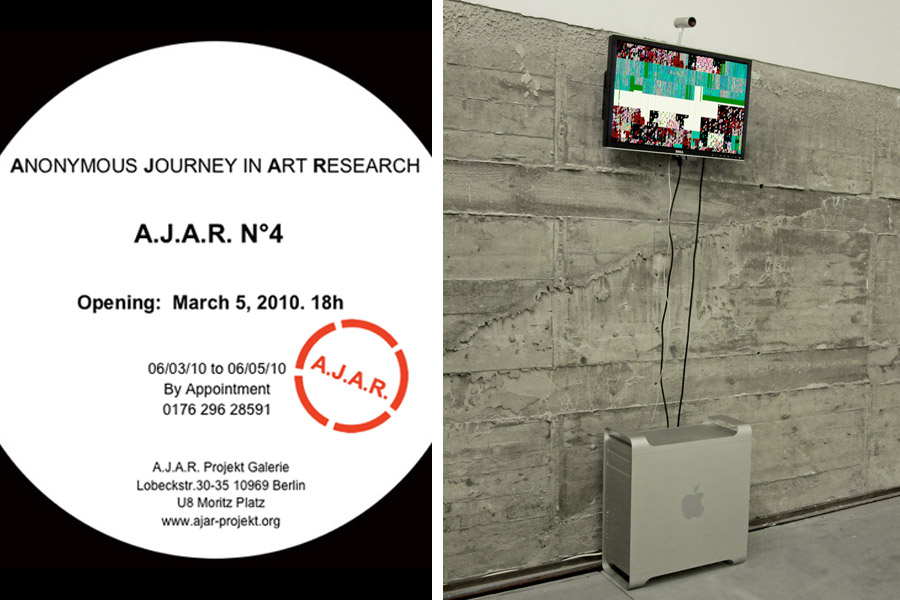 Glitchomatik 0.01
Computer, screen and video camera.
The computer is running a software that generate real " Glitchs ", visual data errors from a camera video signal and the "Gpu", the graphic card.
This example cycles trought different texture formats and glitch styles from the video card memory.
This software is build up from different open source and creative commons sources plugins from coders discovered on the internet.
Particulary the work of Vade , Video Artist and Realtime Graphics Programmer.
A.J.A.R N°4 Berlin
Glitch photos and videos from the following cameras:
Canon power shot A80
-Sony Syber-Shot T90
-Nikon Coolpix 4500
-Fujifilm Finepix F40 FD
-Samsung 83T
Glitch interactif video installation
Glitch light installation
Glitch sound pieces.
Glitch concert at 10Pm

Glitch @ Wikipedia
Le terme glitch désigne une défaillance électronique ou électrique qui correspond à une fluctuation dans les circuits électroniques ou à une coupure de courant (une interruption dans l'alimentation électrique). Ce qui entraîne un dysfonctionnement du matériel informatique (hardware), qui occasionne à son tour des répercussions sur les logiciels (software).
Le mot glitch en est venu à désigner tout type de problème en informatique. Cela explique également le fait que "bug" (bogue) et glitch soient souvent employés indifféremment, sans pour autant être de parfaits synonymes. Par extension, il est employé pour désigner un bogue dans un jeu vidéo, où un objet animé a un comportement erroné.
##
An electronics glitch is an undesired transition that occur before the signal settles to its intended value. In other words, glitch is an electrical pulse of short duration that is usually the result of a fault or design error, particularly in a digital circuit.
A computer glitch is the failure of a system, usually containing a computing device, to complete its functions or to perform them properly. In public declarations, glitch is used to suggest a minor fault which will soon be rectified and is therefore a euphemism by comparison to bug, which is a factual statement that a programming fault is to blame for a system failure.