THX 1138 REMIX is a live audio vidéo performance, a digital, plastic and musical interpretation of George Lucas' first title THX1138 from Denis Cartet, Fred Berthet & Olivier Blaecke
THX 1138 REMIX est une performance live audio et vidéo, un travail numérique, plastique et musical.
Olivier Blaecke, Denis Cartet et Fred Berthet donnent à voir et à entendre leur version, leur évocation du film de George Lucas, THX 1138.
THX 1138 REMIX Live record – novembre-3-2009

THX 1138 REMIX performance shows :
01 october 2011 : Festival d'Île de France
13 march 2009 : Tilt Festival Perpignan
17 march 2009 : Cinema Utopia Bordeaux
19 march 2009 : Cinema Utopia Toulouse
16 march 2008 : Mapping Festival – Geneva – Switzerland
15 decembre 2007 : Festival Tout Courts – Aix En Provence
20 septembre 2007 : Première – Friche Belle de Mai – Marseille
Please visit the project web site and blog
www.cinemaremix.net
www.cinemaremix.net/blog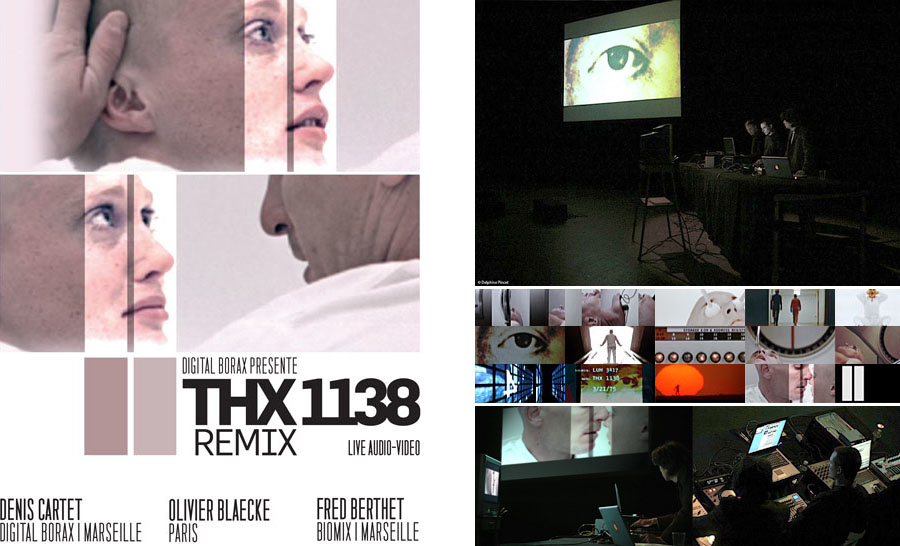 « This is my last work for the THX1138 REMIX audio vidéo performance. Electronic and optic microscope images from a real 35mm copy of the movie THX1138. »

We used here some real 35mm film print frames from the THX1138 movie.

With the help of Ph.D Ivan Perez from University of Provence and Cnrs Marseille Luminy Team, these samples were observed and photographied using electronic and optic microscopes during a collaborative day in their laboratory.

The resulting pictures were edited, post produced and animated in After Effect.
Thanks to Cnrs and Université de Provence, Marseille France.